Okay so Samsung (yes this is a sponsored post) are doing 'a thing' called The Now Project to launch one of their new handsets and they've asked us to get involved. It's basically about capturing moments on camera — for that, viewers, is the primary purpose of a camera — and so on. You can have a look at the Facebook page here and get involved if you like. There are Wave II smart­phone to be won etc.
ANYWAY the moment we have decided to capture is today's rearran­ging of The Axis Of Popjustice, our handy office guide to the good and the bad of the world of pop.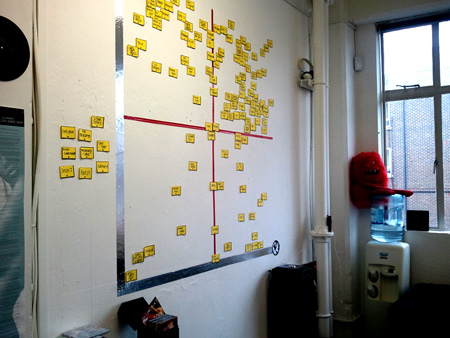 Here is how it works, and we have to explain this to everyone who comes to the office so sit tight. On the Y axis you're looking at how much Popjustice likes something and on the X axis there's a sense of how much the world at large is into the act. So for example you'll find X Factor-winning, platinum-selling Matt Cardle quite far to the right, but pretty near the bottom on account of his being literally awful. You'll find people like Lady Gaga, Rihanna and Britney near the top right, and Daisy Dares You bottom left. The top left square is full of all the Popjustice classics like Dragonette, Little Boots, Alphabeat, Sunday Girl and Sky Ferreira.
We rearrange the Axis Of Popjustice every Monday to keep on top of what's happening in pop. Here's who is in the holding pen this morning, waiting to be rehomed on the grid.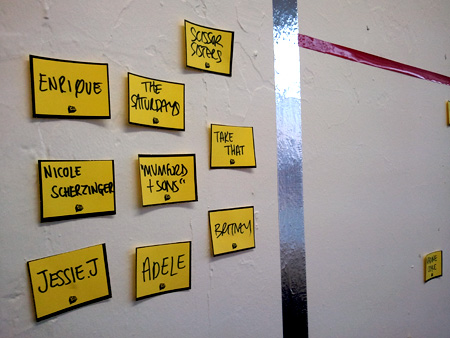 As you can imagine The Axis Of Popjustice is a handy, at-a-glance-across-the-office guide for whem someone asks us "WHO'S TERRIBLE" or "WHO'S AMAZING". What's great is that by glancing at the Axis we can answer in under three seconds. And that is something you can't put a price on.
Well you can, it's about £80 (weekdays) £90 (Sat/Sun).


Further reading:
» Get involved with The Now Project by Samsung on Facebook
» Email us to tell us where Will Young should be on the Axis Of Popjustice