There are not as many tits and willies as you might have hoped for in the Hercules and Love Affair 'Blind' video but it is quite rude nonetheless.
httpv://www.youtube.com/watch?v=Fb8S51M2GAc

For those of you without YouTubular access, it stars up and coming actress Jaime Winstone acci­dent­ally finding herself slap bang in the middle of an orgy, pulling a series of increas­ingly concerned expres­sions. Here is a guide to what you may or may not have missed in the video.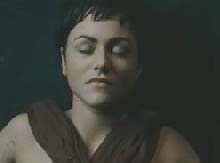 A SPOT OF SHUT EYE
Eyes closed, up and coming young actress Jaime Winstone is seen acting out the role of a young lady sleeping on what will be revealed to be a bit of floor. She is very con­vin­cing indeed in the role. Perhaps she was asleep for real?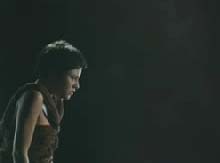 NOT WHERE SHE THOUGHT
The look of concern here indicates that a big black room is not where she expected to wake up.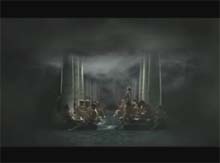 PEOPLE AND PILLARS
Not as alone as she might have initially suspected, our heroine spots a group of people having a lovely time among some pillars and mist. Perhaps they can explain where she is?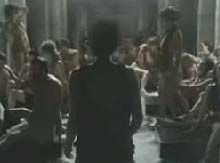 WHAT A LOT OF FLESH
These people are of no use what­so­ever — they're too busy wandering around with very few clothes on.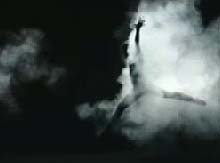 EVERYONE LIKES A BIT OF INTERPRETIVE DANCE
Perhaps this chap will prove more useful in Jaime's quest for answers. After all he is, like Jaime Winstone, a performer and the two will no doubt have a lot in common.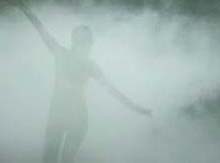 HERE COMES DANCING BOY
Unfortunately he appears to have forgotten to wear even a loin cloth. People who wander around in public with no clothes on are rarely useful when it comes to asking for dir­ec­tions — a lesson we learned the hard way in the subway near Elephant & Castle the other evening.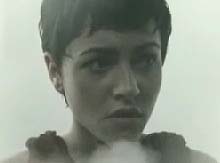 NOT GOOD WITH NUDITY
Concerned at the per­voramic nature of her sur­round­ings, the young lady at the centre of this thrilling story becomes worried about the rampant shagging she will soon be forced to endure.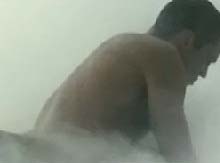 THINGS GET WORSE
A man has sex with a lady. (Despite the fact that our screen grab suggests he is doing his laundry in the sink.)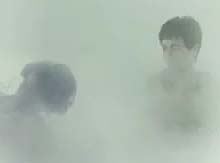 TOO CLOSE FOR COMFORT
There is shagging happening left, right and centre. Here we see the shagging happening very much in the 'left' side of things. (Or 'stage right' if, like Jaime Winstone, you are a the­at­rical type.)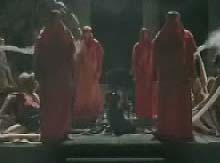 'IT DIDN'T SAY ANYTHING ABOUT THIS ON THE INVITE'
Not fully briefed on the nature of the evening, over-dressed guests arrive at the orgy.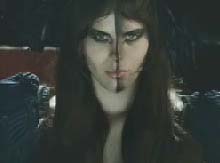 THE SHORT STRAW
If Jaime had been hoping to get lucky with one of the gentlemen picture above she will be dis­ap­poin­ted to discover that she is expected to do The Shagging with this man, who a) seems to have a broken face and b) is in the bath.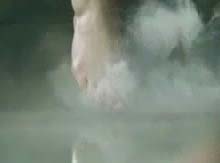 SAFETY FIRST
A dip of the toe is always advisable when getting into the bath. Parents often use their elbows when testing bath water for babies — this is because babies are actually made from the toes of their parents, which is why grown upd never wear open-toed sandals after their children are born.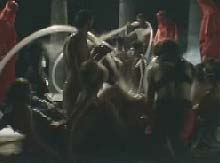 MUST WE THROW THIS FILTH AT THE RECORD BUYING PUBLIC
We don't know what's going on here but it looks a bit like the scene from that Tom Cruise film where everyone had a big spooky orgy. (Rain Man.)
And that, in an webtacu­lar nutshell, is the Hercules & Love Affair video.