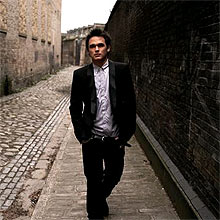 We bloody love Gareth Gates.
We love how, as a spiky-haired 17-year-old, all he wanted was to be a one-man Westlife, and we loved how he basically pulled it off. We loved the Jordan-shagging and the good haircut tri­umphantly unveiled for the better-than-history-will-remember second album, and the sort of hand-wavy dance routine for 'Spirit In The Sky'. We love his kitchen. We think there's some good stuff on his new album, too.
He is one of those people you can genuinely believe does not have an unpleas­ant bone in his body. Perhaps that is his fatal flaw. But as we all know FLAWED POPSTARS ARE AMAZING so it's fine.
How.
Ever.
There is something about receiving a MySpace private message like this…
From: Gareth Gates
Date: 24 May 2007, 18:25
Subject: Want to be Gareth's top friend?
Body: Hey Everyone,

Gareth's giving you the chance to be in his top friends list on his Myspace page! Gareth is far more likely to check your page if you're a top friend, so now is your chance to get noticed!

All you need to do is go to Gareth's Myspace profile, right click the pho­to­graph of Gareth for "Angel on My Shoulder" in the About Me section. Save it to your computer, upload it to your myspace and host it as your profile picture. We'll then randomly select who will get the chance to be in Gareth's top friends!

If you are already a top friend of Gareth you'll need to get involved to stay there!
…which is a bit rubbish. It's not that far off street teaming, the crucial dif­fer­ence being that it offers no actual reward for
the fan. With street teams at least you get a few posters and keyrings, perhaps the occa­sional dis­in­ter­ested phonecall from whichever failing pop act you've bizarrely chosen to support.
With this, there's nothing more than the dim and distant pos­sib­il­ity that Gareth might
("is far more likely to") check out your MySpace page. This is what
it has come to. Not an oppor­tun­ity to meet Gareth or get a Gareth
autograph or touch his arse or anything which might require any effort
or expense on the part of Team Gareth. It's just an oppor­tun­ity to advertise his new single, for free, made all the more unap­peal­ing by the fact that MySpace genuinely can be somewhere where the barrier between artist and fan need not exist. The bottom line is that if Gareth had been running his own MySpace page in the first place he would have checked out your page anyway, when he was approving his friend requests.
At the end of the day it's this sort of aggress­ive and partially exploit­at­ive online push which is the real reason Gareth can and will never grow into the Serious Mature Artist he wants to be. The fact is that Gareth could have spent the last two years recording an exper­i­mental alt.deathcore triple album with ex-members of Napalm Death and Team Gareth would still be out there encour­aging fans, flashing bunny ears on their heads, to bellow 'Say It Isn't So' at the top of their voices at the front row of the Download festival.