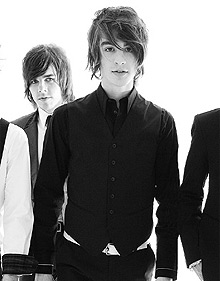 We wrongly predicted the replace­ment singer of The Click Five when we wrote this a few weeks ago. We are not afraid to admit our mistakes and there is no question that new member Kyle is not without his own appeal, as you can see in this picture.
However, we are not sure about The Click Five's decision that recruit­ing a new singer is carte blanche to decide you are The Killers. One of the band is even wearing one of those oddly ruffled shirts in the new photo.
We expect a handlebar moustache by the end of the week.
Still, at least newish single 'Jenny' still sounds like a grown up McFly song instead of an underage 'Mr Brightside'.
Listen to 'Jenny' and view The Click Five in their black and white glory here.