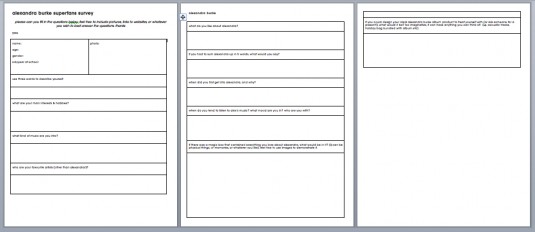 Which is a shame, because we would like to have filled it in. But there it is above, courtesy of a Popjustice reader, with its gaps just waiting for answers.
Answers that could help shape the future of one of Britain's brightest talents.
We are sure that being left off the list was just an oversight, so let's answer some questions right here and now.

Well we are Popjustice, we're 12 years old and we're a website, so kind of sexless really. Our job is mon­it­or­ing the ups and downs of pop music and the people who make it.

Bad, ro, mance.

Well we love music more than anything else, so we get a bit upset when it's not done properly. We've gone on about that at length here if you want the full explan­a­tion of the whole thing.

Big pop, and anything by Big Star.

At the moment we love Dragonette and Lady Gaga and J.Lo on a good day and Nicola Roberts and Calvin Harris. Niki & The Dove's album is quite listen­able in some parts, if boring in others. Marina & The Diamonds' new album is extraordin­ary, Nelly Furtado's new songs are brilliant, and the Scissor Sisters album is really exciting and human and instantly loveable. Nicki Minaj is probably one of the more inter­est­ing global a‑listers at the moment. Have you heard Foxes? She's great, her newer stuff is like a non-bellowy, non-mental Florence.

As with most X Factor singers we didn't really jump in with both feet until we'd heard the music, but we thought 'Bad Boys' was huge and excellent, and then great singles kept coming. She's funny. Sometimes she knows she's being funny and sometimes she doesn't realise and that's a bit awkward but there's a big per­son­al­ity there even when she's doing Extreme Seriousface. We also loved it when she had a nervous breakdown in the presence of Beyoncé and showed everyone she was a big stupid music fan just like the rest of us. It strikes us as a bit weird when people don't lose their shit in the presence of amazing popstars.

New material inad­equately showcases personality.

As we mentioned briefly above, she was in a little-known showcase for unsigned singing talent.

Usually on a Friday night, feeling angry and aroused, as we obsess­ively dissect our various Alexandra Burke scrap­books. We are alone — nobody is allowed to interrupt our special Alexandra time.

An Argos watch. A shiny dress. An elephant.

The album would be 700 songs long, and 412 of them would be different vari­ations on 'Broken Heels'. It would be a boxset that includes a load of bits of paper, some crap jewellery and a CD and it would cost upwards of £35. This might sound unim­press­ive but the general unboxing exper­i­ence would work like this.
Alexandra would come to your house and deliver the boxset in person. You would invite her in out of polite­ness because obviously she's come all this way, and she'd go "OH GO ON THEN JUST FOR ONE CUP OF TEA" and then she'd open her car boot and there would be loads of suitcases and carrier bags in there, and a coolbox con­tain­ing loads of stuff from her fridge. "Just those ones," she'd say, indic­at­ing that you were expected to unpack the car. Once inside your house, it would become clear that Alexandra had no intention of leaving. Alexandra Burke would basically move in to your house for a three month period. During this you would be forced to endure her filling the entire Sky+ box with shit off Living TV, near-constant absent­minded singing and whistling, and some unsavoury bathroom habits we won't go into here. Eventually you'd have to say to her, "look Alex, it's certainly been an exper­i­ence, but I'm going to have to ask you to leave", and she'd say "well yes I com­pletely under­stand" but then she'd throw the mother of all strops. Throwing stuff around, swearing, ripping shelves off the walls. You'd end up having to call the police. Well that would be the deluxe edition, anyway.
So there you go, RCA. We hope this feedback has been useful and we look forward to seeing it imple­men­ted as the Alexandra campaign 'rolls out'.