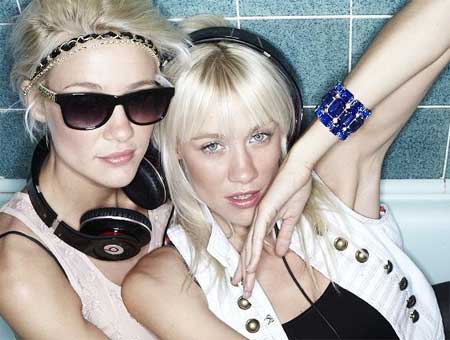 At the start of 2005 we wrote about two Australian sisters by the name of Miriam and Olivia Nervo.
As a duo Nervo had done things like co-write Rachel Stevens' 'Negotiate With Love' (STILL AMAZING IN 2009 READERS) and had a lot of their own material knocking around — there was one song whose opening line was "okay everybody I've got an idea, let's piss off early it's Friday" as well as one called 'Boob Job' whose chorus contained the lines "if I get a boob job, if I get them done, would it help our song go all the way to Number One?".
Well we thought you might like to know (because we've just noticed) that they are respons­ible for writing the Kelly Rowland and David Guetta chart monster 'When Love Takes Over'.
Well done ladies.
Nervo have lots of other things going on as well, from the look of it — there are more details (and some songs) on their MySpace at www.myspace.com/nervo.
'Negotiate With Love' does still stand up quite well, you know.
httpv://www.youtube.com/watch?v=1PqtSzp_bh0

A corker.