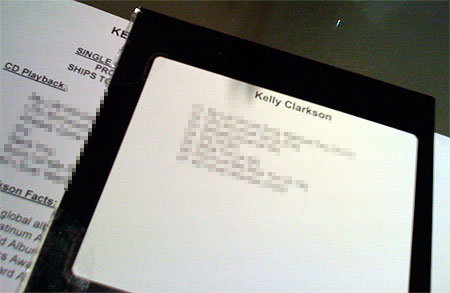 We went to listen to the Kelly Clarkson album last night. Then it turned out we weren't allowed to write about any of the tracks.
SPACE WHERE
KELLY CLARKSON
ALBUM REVIEW
MIGHT HAVE
BEEN
We had a chat with Kelly though. We asked her whether the seven tracks we'd been played were the only good ones on the album, and whether the other ones were rubbish. She said no the other ones weren't rubbish, they just weren't mixed yet. She was wearing some brand new blue jeans and the palms of her hands were blue because the colour had come off. When she took her jeans off last night we bet her legs were blue as well. More scin­itil­lat­ing news from this chat will be available soon in the form of an 'interview'.
In the meantime, Kelly's single 'My Life Would Suck With You' is doing the rounds on the internet and, as we exclus­ively revealed last week, it's amazing.
httpv://www.youtube.com/watch?v=h09_1qdkFIA

Well done Kelly for being involved with this reas­on­ably quite amazing pop single.