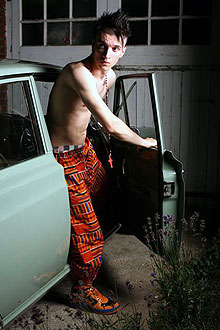 » Frankmusik is our new favourite popstar.
» He is a 'bedroom-based pop auteur' like Jamie T or Patrick Wolf or
Mike Skinner or that sort of thing but he sounds like he is produced by
Daft Punk or Simian or whoever. There are so many possible 'x meets
y' com­bin­a­tions that it makes our heads hurt quite a lot.
» You will either agree with us that he is a‑m-a-z-i-n‑g or you will think his music is the worst thing you have ever heard but sometimes life is a bit like that and if you spend your time trying to please everyone you end up being The Kooks.
» He is letting Popjustice viewers download one of his songs, 'Confusion Girl', for free, for seven days. You can do that by right-clicking on the link below.
» As you can hear, 'Confusion Girl' is:
A) Probably not very easy to dance to unless you are on the blood-boiling killer rave drug ecstasy and even then it would pre­sum­ably be a bit of a push.
B) Very good, par­tic­u­larly in the "wanting to be someone else, anything but herself" bit.
C) Underneath all the racket a bril­liantly melodic song which wouldn't sound out of place at Eurovision.
» Despite sometimes sounding like a robot having a nervous breakdown his songs are about proper things like love and stuff. Perhaps it is time to dredge up 'emo­tron­ica', the genre we invented last year and which spec­tac­u­larly failed to catch on anywhere except in a Shiny Toy Guns press release.
» The first time we listened to his album we decided it was the most exciting thing we had heard in twelve months. Mind you, we were drunk at the time.
» Controversially, Frankmusik is not Frankmusik's real name — but it is a good one-word popstar moniker, like Cher, or Pliers (from Chaka Demus and Pliers). Or Jamelia.
» Speaking of Jamelia, one of Frankmusik's songs, 'When You're Around', samples 'Golden Brown' by The Stranglers. Jamelia did that but for­tu­nately nobody noticed so it is alright for Frankmusik to do it as well. That is how the law works with sampling.
» Frankmusik did some stuff with Kate Nash before Kate Nash was the
Kate Nash who's in the charts. It was probably very good but you might
never hear it. Perhaps it's terrible. We will literally never know.
» Frankmusik is some sort of ex-beat­box­ing champion or something. Then again, aren't we all?
» Frankmusik recently took his clothes off for a photo shoot for a future edition of the popular homo­sexual pub­lic­a­tion AXM.
» As well as singing along to his own songs he produces bits for other people and does the odd remix here and there too. He recently reswizzled Dead Disco's 'You're Out' single, for example. Watch a video remix here.
» Frankmusik is quite handy in the kitchen.
» He is basically a genius.
»
Frankmusik's MySpace is here: www.myspace.com/frankmusik
»
And you can buy his EP on iTunes at this place.
» So there you go.