"Once in a lifetime do two mega stars come together. Rarely do such people put aside dif­fer­ence and ego and show the bravery and con­fid­ence needed to do something together. And when it happens the people stop, listen and watch. For a moment the world stops…"
By now you are probably getting quite excited. You — 'the people' — have undoubtedly stopped what you are doing. You are listening and you are watching. Outside your window, traffic has ground to a halt. Birds have stopped tweeting. The distant hum of an air con­di­tion­ing unit three streets away is, for the first time, clearly audible to the human ear. Entire cities have fallen silent. In the coun­tryside, cattle are shuffling uneasily in their sheds. Deep in the rain­forests, ancient tribes are looking to the sky. Tossing and turning in his sleep, Jon Watkin, bassist in The Twang, is dreaming of apo­ca­lypse, but also of new begin­nings. There is something in the air.
Who are these megastars? Ladies and gentlemen… USHER AND R KELLY.
They've done a song together — and remember this is a com­pletely unex­pec­ted and unpre­ced­en­ted event, given that Usher and R Kelly are by no means com­par­able talents operating in the same musical genre and on the same record label. Continues the press release:
"Rarely do we hear the fellas tell of being two timed and played. Never out the mouths of sex symbols like R. Kelly and Usher. But here they are. Saying it for the world to hear."
Well, The World, you can hear it here. Don't listen to it on head­phones — if you do, you'll miss the sound of the planet spinning off its axis in response to this unbe­liev­able coming together of such diverse talents.
Anyway, here they are together in a pho­to­graph. You will remember that they have "put aside ego and difference".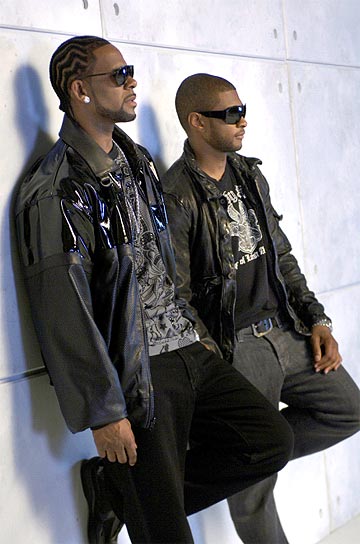 Yep, no ego there.