Let's see what Status Quo's Rick Parfitt has to say about his role in the Rolf Harris col­lab­or­a­tion 'Christmas In The Sun'.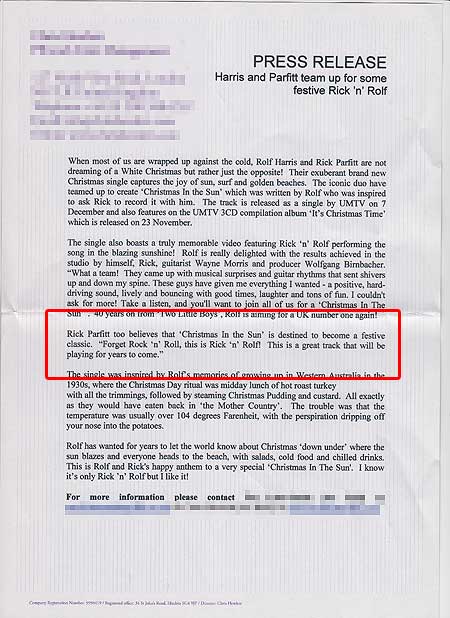 "Forget rock 'n' roll, this is Rick 'n' Rolf!"
It's a shame really that there isn't another pun they could hang a story on, isn't it, maybe to generate a bit of press coverage. Shame there's nothing in the way of a worldwide internet phe­nomenon whose name sounds a bit like Rick and Rolf. We suppose with thel­on­don­pa­per and London Lite out of the way there's less demand for clearly made up press releases about how "the new craze of Rickrolfing has spread across the internet", which is a bit of a shame really. If Rickrolfing didn't work they could even have tried 'The Rolfcopter'. And if that didn't work there could always have been 2 Little Boys, 1 Cup.
Probably best to steer clear of the last one.