What do you get when you cross three of the biggest and best Number One pop singles of the last couple of years? Something a bit like this.
[audio:surveillance2.mp3]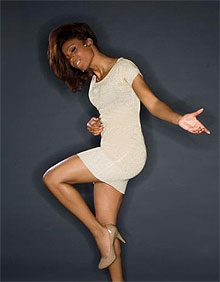 It's 'Surveillance' by Wynter Gordon.
Someone sent it over to us over Christmas but then we went a bit mental and forgot to mention anything about it. Fortunately someboy0716 on the Popjustice forums mentioned it over the weekend, saying that it "sounds like everything that people are trying to make these days … I
suppose it's something along the lines of what Keri Hilson would like
her solo material to sound like".
Basically it is fucking brilliant.
WYNTER GORDON: THE KNOWN FACTS
» Despite being American and a young solo artiste, Wynter has not been swept into the shores of pop by the crashing waves of American Idol. She has just magically appeared.
» She's not very good at playing the air guitar (see right).
» In 'sounds like' terms, her MySpace notes: "Honestly, Wynter Gordon sounds like no one else. With a grace and range
well beyond her years, Ms. Wynter Gordon's music is a moving
com­bin­a­tion of pleasure and pain, failure and triumph. In a word -
life. Wynter is as masterful a song­writer and composer as she is a
vocalist. Her magnetic charm and beauty may intially draw you in, but
it will undoubtedly be her pas­sion­ate songs that speak to you, and,
ulti­mately, keep you here."
» As is 'de rigeur' these days one of her songs samples Eurythmics' 'Sweet Dreams'.
» She has got a song called 'It's Wynter Time' ("now I see it's Wynter time, def­in­itely"). Amazing.
Anyway, Wynter Gordon's MySpace is here and it includes more songs (including 'Wynter Time').