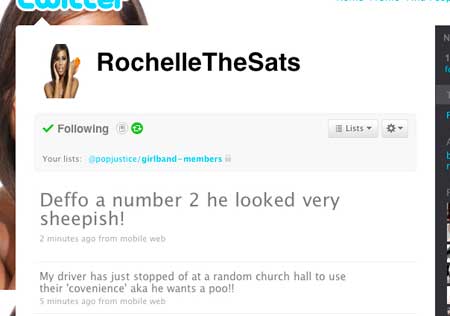 This Christmas many of you will be jour­ney­ing back to see your families for festive cel­eb­ra­tions and, during the course of your stay, will find yourselves attempt­ing to explain to mothers, fathers, aunts and uncles the nature of this 'Twitty' thing they've been reading about in the Daily Mail.
"Is it dangerous?" they will ask. "Will the Twitties be able to see my bank balance?"
"NO," you will say. "PUT DOWN THAT CRACKER AND LISTEN TO ME. TWITTER TELLS YOU WHEN THE MEN RESPONSIBLE FOR TRANSPORTING MEMBERS OF BRITISH GIRLGROUPS NIP INTO LOCAL CHURCH HALLS FOR THE PURPOSES OF DEFECATION."
"Well you've managed to ruin Christmas yet again," your mum will say.