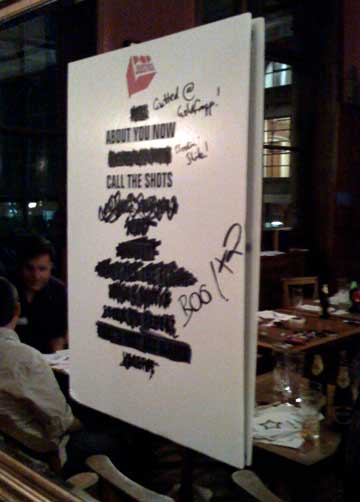 Last night's Popjustice Twenty Quid Music Prize judging event was a roaring success ('roaring success' = 'nobody was seriously injured') and, after quite a lot of arguing, 'Call The Shots' was crowned the best British pop single of the last twelve months. As you can see from the pro­fes­sional pho­to­graph above the final two songs were 'Call The Shots' and 'About You Now', although 'Bleeding Love' and 'Song 4 Mutya' were also favour­ites among the judges, with a sur­pris­ing swell of support for Little Boots' 'Stuck On Repeat'.
Other things we learned:
1. You really don't want to know what Disney employees get up to on their weekends.
2. Yelling "I'M A SCIENTIST!!" does not make your opinion more valid, even if you are a proper actual real life scientist.
3. Smokers don't like Leona Lewis.
Etc.
Thanks to everyone who came along and helped judge the prize last night — see you next year…