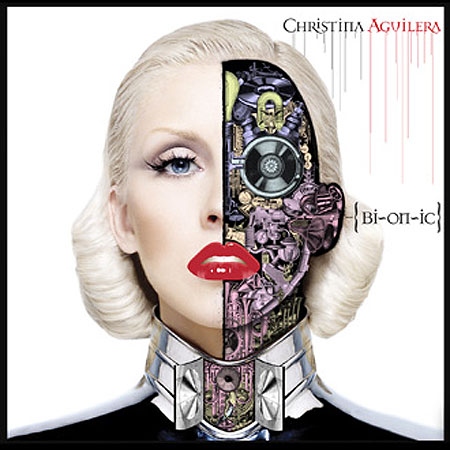 This just went online at Christina Aguilera's website — an album sleeve that bears abso­lutely no relation to the single sleeve she unveiled the other day, which is a shame in terms of con­tinu­ity but isn't neces­sar­ily bad news.
Christina's site has also been updated with some press release text.
Bionic features songs co-written by Aguilera along with her much buzzed about col­lab­or­a­tions including Sia, Tricky Stewart, Polow Da Don, Le Tigre, Hill & Switch, and Ladytron among others. Aguilera notes, "Working on this album with so many talented artists and producers that I admire was really an amazing exper­i­ence. The artists I chose to work with added so many unique sonic layers to Bionic. My intention was to step into their world and what they do combined with my own vision and sound. The results were magic." The album also features a ballad produced and written by Linda Perry titled "Lift Me Up". The title Bionic reflects Aguilera's ability to take her range to new levels and use her voice in various ways never heard before. Aguilera describes the album as a unique mix of many genres and styles of music, "I was able to explore and create a fresh, sexy feel using both elec­tronic and organic elements with subject matter ranging from playful to intro­spect­ive. I am so excited for my fans to hear the new sound. It is something I don't think anyone will expect." In addition to com­plet­ing the album which was all recorded from her home studio after the birth of her first son, Christina also completed pro­duc­tion on her first film, "Burlesque." The film, which co-stars Cher, Stanley Tucci, and Kristen Bell will be released by ScreenGems this fall.
You'll be able to hear some of the song from tomorrow.