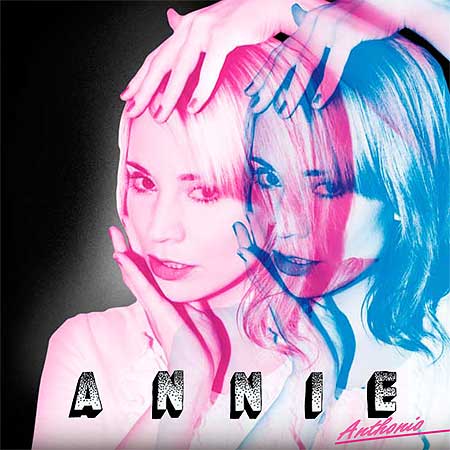 Annie's new single is out in May on Richard X's new Pleasure Masters label.
'Anthonio' is a song about a holiday romance and we'll have a clip of the radio edit for Monday's Song Of The Day, and you might be right to draw certain con­clu­sions about the track's general feel from the sleeve, which is a sort of homage to dodgy (trans: amazing) 80s Euro 12" imports. The Fred Falke mix is also PROPERLY AMAZING (Fred's mix of the next Little
Boots single is also incred­ible) and Designer Drugs have also done 'the usual' with the track. The remix package also includes a 'Berlin Breakdown' version which sounds a bit like a Balearic Ultravox.

Amazing pop­cul­tural mile­stones to concern holiday romances:
1. 'Summer Nights' and all of Grease
2. High School Musical
3. 'Holiday Romance' by The Kinks
4. 'Big Girl (All I Wanna Do Is Do It)' off the Kevin & Perry movie
5. 'Farewell My Summer Love'
6. 'Girls & Boys' by Blur
7. The above-mentioned new Annie single.
8. Etc.