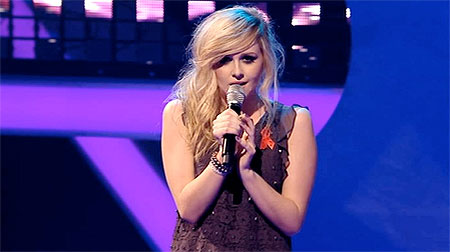 1. THE AMAZING LAUNCH OF DIANA VICKERS, INTERNATIONALLY SUCCESSFUL WARBLIN' POP SENSATION
This woman is the new Patti Smith. Alright then — she's clearly not. She's nothing of the sort. In fact she's totally NOT the new Patti Smith. And thank God for that — one Patti Smith is more than enough. (Cheer up love, etc.) Regardless of what Diana is the new one of, she is amazing. Although pre­sum­ably her fair and artist-friendly X Factor contract might be getting in the way of things. But still. 'Shake a leg', etc etc.
2. THE INVENTION OF SOME DECENT HEADPHONES FOR iPHONE 3G
Sorry about this, readers, but can anyone — ANYONE — suggest some decent in-ear head­phones for an iPhone 3G? What we want is these but with a remote control on that can control the iPod bit (and volume) of your iPhone. Handsfree calls would also be handy but they're not strictly necessary because let's be honest you look like a lunatic walking around with your iPod on, talking to yourself. Either a lunatic or someone 'singing along' to a spoken word recording. A spoken word recording recre­at­ing a phone con­ver­sa­tion. Basically you look like a lunatic. Anyway, head­phones. Anyone?
3. A STUPID RAVE-UP DANCE VERSION OF KINGS OF LEON'S 'SEX ON FIRE'
Has this already happened and simply passed us by? If not it should deffo happen very soon indeed. Note To The Music Industry: please keep Popjustice up to speed with your Kings Of Leon-related escapades.