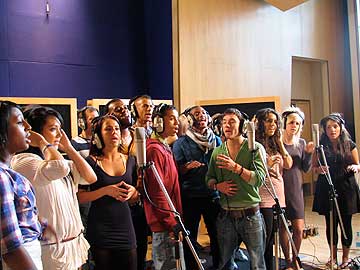 Who'd have guessed — the X Factor finalists are releasing Mariah Carey's 'Hero' as a single in suport of 'our lads'. It's press release cut and paste o'clock:
The X Factor Finalists Release Charity Single In Aid Of Help For Heroes
Single 'Hero' Released Digitally Midnight Saturday October 25th
Released Physically Monday October 27th


This year's twelve X Factor finalists will release a charity single this October in aid of the 'Help For Heroes' charity.

The final twelve acts have recorded a beautiful and emotive cover of Mariah Carey's classic song 'Hero', and will perform the single for the first time on The X Factor during the live results show on October 25th.

Fans will then be able to download the single at midnight shortly after the per­form­ance. A physical release will follow on Monday October 27th. The single is the first charity release from ITV1's The X Factor, with all net record company proceeds going to 'Help For Heroes' a charity that provides support for wounded ser­vice­men and women.
'Help For Heroes' was set up a year ago, by Bryn and Emma Parry and a group of friends and relations, many of who had con­nec­tions with serving ser­vice­men and women. Bryn and his wife Emma wanted to do something to help the wounded and 'Help For Heroes' was born. 'Help For Heroes' has to date raised more than £12.5 million in just under a year. The funds raised by the song will be shared at H4H's request with the Royal British Legion's Poppy Appeal. The RBL has cared for Servicemen, women and their families since its found­a­tion in1921.
Bryn Parry says: "Everyone at 'Help For Heroes' is thrilled to hear that The X Factor is sup­port­ing our boys and girls. We hope the public will do their bit to make this a hit single and demon­strate that we really care".
The twelve acts per­form­ing on the single are the 14 – 24 boys Austin Drage, Eoghan Quigg and Scott Bruton, 14 – 24 girls Laura White, Diana Vickers and Alexandra Burke, over 25s Daniel Evans, Rachel Hylton, Ruth Lorenzo and groups Bad Lashes, Girlband and JLS.
We hope that Help For Heroes makes good use of the 'net record company proceeds' (?!?) but this combo needs a name. 'Remaining X Factor Finalists (At Time Of Recording)' doesn't really have much of a ring to it. We think Dead Dog is a good name. It is a reference to the terrible, upsetting woes that faced all of this year's con­test­antzzzzzz, and it also sounds like 'dead horse', as in 'flogging a'. Any thoughts?