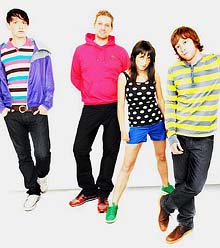 There is a The Whip interview on Popjustice at the moment. In case you are not of a mind to click through and read it the notable high­lights of the interview involve:
»
Girls Aloud being better than the Sugababes.
»
Women arguing.
»
Madonna strangling men with her legs "and not in a sexy way".
»
The prospect of Leona Lewis not wanting to make her mum happy. :(
»
Sandwich fillings.
So there you go. The full The Whip interview is here…