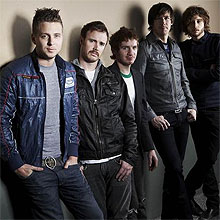 1. He knows exactly why the lyrics to Leona's 'Bleeding Love' are so amazing 'n' unusual.
2. He has written a really brilliant song whose title begins with the letter 'H' for a big famous superstar.
3. Working on the Hilary Duff stuff was not exactly a career highlight.
4. He agrees with Paul McCartney.
5. He knows he is not Thom Yorke.
Re point 2, who do you think the megastar is, and what do you think the song title is? We think it's Whitney and the song's called 'Hate'.