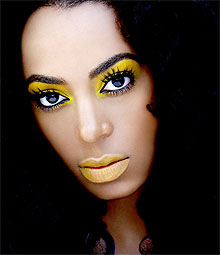 As you know (because we've already mentioned it once or twice), Solange has a new single out in the States. It's called 'I Decided'.
A brilliant video has been made for the original version, produced by Pharell.
The Freemasons have also delivered a brilliant edit which makes 'I Decided' sound like one of the greatest songs of all time.
Here is the Pharell version.
httpv://www.youtube.com/watch?v=4DXpGqCgy50

Here is the Freemasons version.
[audio:solange.mp3]
Now it's time for Solange's idiot test.
SOLANGE'S IDIOT TEST

QUESTION ONE
Do you prefer the Pharell version?
a) Yes
b) No
If you answered mostly 'A's: you are an idiot.
The End.