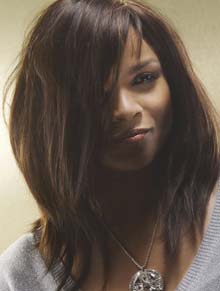 We've been telling you for ages how good the new Gabrielle album is, and since it seems to be selling pretty well it seems we're not alone in thinking that. WE RULE.
We inter­viewed Gabrielle recently and she was the sort of person who makes us happy that our job is to sit around an office waiting for people to call and answer our poorly thought out questions on a day-to-day basis.
Here is a sum­mar­iz­a­tion of what Gabrielle had to say about herself.

»
You probably don't want to see her naked.

»
She prefers chocolate to crack.

»
She doesn't believe for a second that real popstars chat to people on MySpace.

»
You don't want to tell her any of your problems because she'll be scrib­bling down notes for a new song while you were bawling your eyes out in her front room.

»
Her mum is glad she is out of the house again.
She also thinks she is the Steve Davis of pop. Lovely. Read the full interview here.