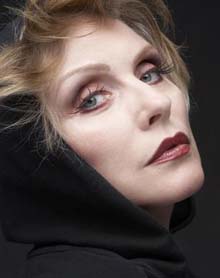 We inter­viewed Debbie Harry recently. As you may be aware she is very famous. She is also very funny and even though her album and single were both released a few weeks ago we think you will still be very inter­ested in what she has to say.
But in case you have to shoot off somewhere right now, here are a few high­lights from the interview.

»
Debbie Harry lies when she promises to put in an appear­ance at Club Popjustice.

» Debbie Harry tells us about the sec­ret­arial joys of shorthand.

» Debbie Harry says some things about Lily Allen.

» Debbie Harry talks about her allergies.

» Debbie Harry talks about going into space and her impa­tience when it comes to those slow old rockets you have to go in.
There is also a picture to look at of Debbie Harry having THE TIME OF HER LIFE and a link to see her being inter­viewed on Loose Women.