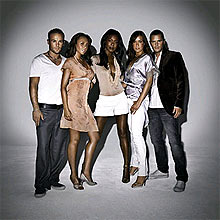 We were busy with something important yesterday and were unable to mention the news that Liberty X are to split up, six years after forming on the first ever UK reality pop series.
There was always something likeable about Liberty X. Their songs hovered inof­fens­ively in the area between 'alright' and 'quite good' and nobody really had a bad word to say about them. Michelle's bits in Totally Scott-Lee were brilliant, too.
Although pulling off the impress­ive trick of somehow appearing to be more mediocre than they actually were, Liberty X did still end up being typical of that brand of pop group forced to survive not on the spoils of actually being in a pop group but on all the peri­pheral bits and bobs that come with it: the reality TV shows (Celebrity Wrestling, The Games, Come Ice Skating), the dodgy tribute albums and TV shows (like Madonnamania), the corporate gigs. That sort of pop group whose indi­vidual members tend to become more famous for jumping off a diving board or standing near Lisa Scott-Lee in a pho­to­graph than for singing songs.
In that sense Liberty X were part of a dying breed of pop act, something of a hangover from a bygone pop era when these days it's almost unthink­able that any new pop group would become famous in the first place, let alone be given the luxury of having an oppor­tun­ity to prolong that fame through other means.
For now, let's just remember the good times.
» Tony per­form­ing the band's entire first showcase with his flies undone.
» The amazing 'walking sticks' dance routine for 'Just A Little' .
» The peerless moment of pop ridicu­lous­ness that was 'Song 4 Lovers' featuring Reverend Run.
» The song 'X' which was actually quite good but ended up being rendered unin­ten­tion­ally hilarious by the stupid 'Orwellian nightmare'-style video .
» Erm…
Anyway: Liberty X, we salute you.