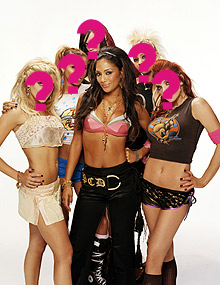 We don't know what is happening now that the Pussycat Dolls have found their new member.
Asia is probably sat at home by the phone, Scott-Lee style, waiting to find out when she will be invited to the studio to lay down some vocals for the next PCD album.
We mentioned the other week that the next series of 'Pussycat Dolls Present…' was already being planned, but there is semi-exciting news now that instead of trawling all America for just one new peri­pheral band member the next search is for an entire platoon. 'Pussycat Dolls Present: Season Two' is all about putting together AN ENTIRELY NEW GROUP of women who look quite nice from a good distance and/or in a line of other anonymous singers. Either an amazing idea or a shit one. Time will tell.
Obviously the highlight of Season One was some idiot being sick in the bushes, so we're hoping the shellfish is already 'slightly on the turn' for the par­ti­cipants of Season Two…