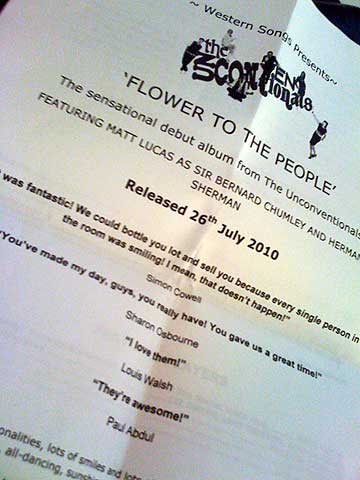 That said, we do like the fact that someone called 'Paul Abdul' has been added to the list of fans. We really hope that it's not just a mistyped Paula Abdul and is, in fact, just a thumbs-up from someone called Paul Abdul. This could be an exciting new devel­op­ment for the world of music publicity. All you need to do is find someone with a similar name to an oft-quoted 'taste­m­aker' and it's happy days. "I loved it!" — Fran Cotton. "This band will go far!" — Mick Grimshaw. "A great live act!" — Jon Whiley.

Those of you who remember The Unconventionals from The X Factor, in which they spewed out some winningly ridicu­lous jazzhands versions of popular hits, might think that the current pop­ular­ity of Glee offers the band something of an open goal. As it happens their album goes in a slightly different, flower power-meets-psy­che­delia direction, and it's not really very good, but their version of Sugababes' 'Push The Button' stands out and is still reas­on­ably diverting.

[youtube]c6yGmvJ3t5w[/youtube] That was that.