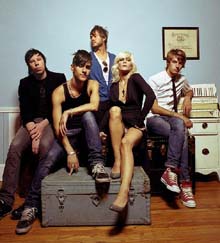 One of them might be a lesbian. Most of them are boys. None of the boys are gay. One of the boys is too thin.

The Sounds do have a single coming out at the end of the month, which is very good, but since 'Tony The Beat' sank without trace we can't see that 'Painted By Numbers' is going to fare any better.
They are from Sweden though, and everyone likes Sweden now because of Robyn so maybe there is something to say about The Sounds, along the lines of:
The Sounds are from Sweden. They are the new Robyn.
Except they are not the new Robyn. :(