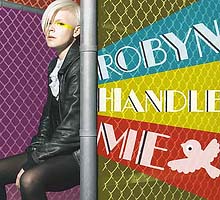 We've sort of forgotten what the original version of 'Handle Me' by Robyn sounds like due to the fact that we've been listening to nothing but the Ortzroka Death To Disco remix on repeat for the last eighty years.
There is also another mix of 'Handle Me' doing the rounds which is by Bjorn out of Peter, Bjorn, Dave, Beaky, Kool & The Gang or whatever they're called.
It will be coming out on the other side of the 7" format due to it being A BIT INDIE.
So — 'ta-da' — here is the Bjorn Remix.
[audio:handlemebjorn.mp3]
Here are all the others again.
Amazing.
[audio:robynortzroka.mp3]
Amazing.
[audio:robynseekerz.mp3]
Amazing.
[audio:robynchewy.mp3]
General verdict: amazing.