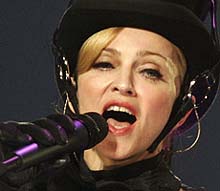 :: Madonna is not actually adopting anyone from Africa. To celebrate this, here is her new video. In full.
:: Someone told Heidi Sugababe that wearing an orange wig in the new video would be a good idea. Meanwhile, Amelle is looking more like Mutya with every passing day. This is clearly an attempt to recreate Sugababes 1.0.
:: We have heard the new Robbie album. Some people in the 'the office' don't like it. They are very wrong.
:: Dannii Minogue is appar­ently releasing a cover Sister Sledge's 'He's The Greatest Dancer' as her next single…
:: We've tarted up the features page on Popjustice.
:: We did have some photos of the X‑Factor finalists with towels over their heads to show you, but they've been taken off the internet! Someone call The Internet Police! One of them was in a wheel­chair — we seem to remember…
:: The Charlotte Church Show has been recom­mis­sioned for another two (TWO!) bloody series :(
:: The Spice Girls reunion is going to happen — under one condition set by Melanie 'B', it must happen in Leeds and Leeds alone.
:: Bloody Fergie is still banging on about crystal meth.
:: The second Gwen Stefani album should be with us before Christmas and is called 'Sweet Escape'. We hear.
Have a nice weekend!
PJ x