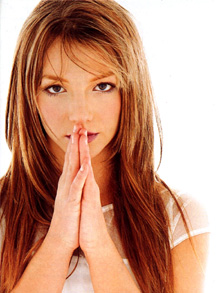 :: Let's get this whole Britney Spears debacle dealt with then. She cut off all her hair, bought a wig, went to rehab and then came back out of rehab. This is just an average Wednesday afternoon round at PJ Towers. You can't help but feel that most of the people gleefully reporting the whole thing won't be happy until The People's Princess Of Pop is dead. As long as her next album's in the can before she pops her clogs we suppose it doesn't really matter but we'd prefer it if she stayed alive, really.
:: Gareth Gates has been talking about having sex with Jordan, although he's not said much more than yes, he did do it with her. He played a gig this week in central London and we were meant to go but didn't make it due to complete idiocy on our part.
:: The Darkness are back back back but without Justin Hawkins and with a different name. So not The Darkness at all.
:: The Sun newspaper copied and pasted this from the Sophie Ellis-Bextor website.
:: Gwen Stefani has offered some support to Britney Spears saying that she wants to give her a kiss and that she looks good bald. Britney does look quite good without hair, to be fair.
:: People are still claiming that All Saints are being dropped by their record label after selling not many copies of their album.
:: Lily Allen is designing some dresses for New Look.
:: Amy Winehouse was, according to The Sun, a 'picture of sobriety' at her London gig this week.
:: Calvin Harris "is producing the new Kylie album". He's actually only done three songs with her and her people only like one of them, as an enlight­en­ing and highbrow interview in next week's The NME will tell you. SO EVERYBODY PLEASE CALM DOWN.
:: Mark Owen has started a one man campaign to 'save' Robbie Williams. Or at least a comment in a magazine interview suggests this slightly if you look at it with squinty eyes from a 48-degree angle.
:: Joss Stone is appar­ently taking speech therapy to stop that ridicu­lous American accent she was putting on at the Brit Awards.
:: A pervert has been spying on Dannii Minogue on an aeroplane. She was filmed asleep in a first class cabin.
:: That's about it.
Have a good weekend!
PJx