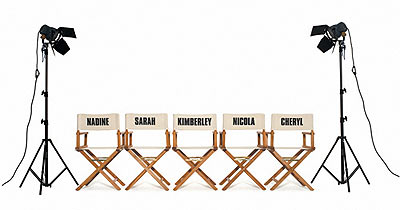 :: Girls Aloud are going to be part of the 'Harrods' Christmas grotto (sort of). Careful when lowering yourself onto Nadine's bony knee…
:: We have done an interview with Swedish pop hermit Robyn. You can read it on Monday.
:: For some unfathom­able reason, Atomic Kitten are getting back together. Something to do with 'charity'. And maybe Frost needs more dental work done.
:: The Q Awards were the most pointless ceremony ever held. The MTV ones weren't much better — unless you like The Kooks.
:: Sarah Harding opted not to let Russell Brand put his back-combed pubes anywhere near her, despite his apparent insistence.
:: Kylie literally can't stop cracking cancer jokes every five minutes. However, it's only funny when she tells them.
:: Keisha Sugababe is thinking about a Beyonce-type solo career for the not too distant future. It'll all end in tears, 'slow jams' and duets with George Michael.
Have a good weekend!