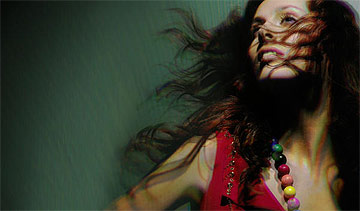 Like the rest of you we're a bit MySpaced out these days, but when an email plops into the Popjustice inbox beginning with these words…
"Siobhan Donaghy would like to be added to your Myspace friends list."
…it makes it worth the millions of hours spent wading through requests from hapless 'emo' and 'indus­trial' no-hopers intent on bumping up their friends list for the sole purpose of telling unim­pressed A&R men that "OMG we've got 10,000 friends on MySpace and you should therefore sign us because we are the new Arctic Monkeyzzzz etc etc".
Anyway, some of you may remember Siobhan as one third of Sugababes 1.0*, and for her solo album 'Revolution In Me' which was a bit clever for its own good or at least a bit clever for the idiots who buy records and so while being AMAZING was also UNDERAPPRECIATED.
Siobhan's now signed to Parlophone, and you can listen to one (ONE!) of Siobhan's new songs, 'Don't Give It Up', on the above­men­tioned MySpace page.
As you can hear, it is:
* Dignified
* Amazing
* Pop
* Quite listen­able really
Which is a relief.
Welcome back, Siobhan.
* Sugababes: three-piece pop group briefly popular in early part of 21st Century com­pris­ing Various Artists including the above-mentioned Donaghy. Hits included 'Overload', 'Run For Cover' and 'New Year', before it all went a bit tits up but a happy ending was had by all, when you look at it in 2006. As with literally everything these days it all seems quite a long time ago now, does it not?