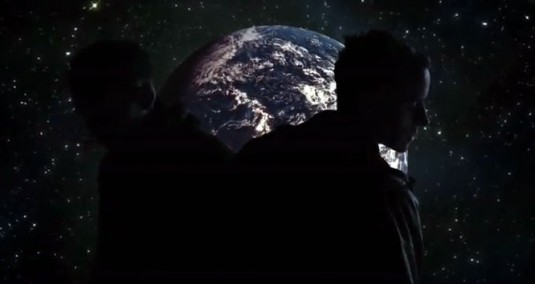 We thought that picture would look better than it does and it's turned out a bit dark — apols — but let's not allow that to ruin our day and let's instead crack on with some facts about THE SOUND OF ARROWS.
The Sound Of Arrows have a new single coming out.
That single is 'Conquest' off their album.
They've made a brilliant video for it.
Said video features a DeLorean.
Also: a unicorn.
Also a lady with her boobs showing so don't say we didn't warn you.
It was shot in Barcelona by Ernest Desumblia.
You know Ernest. Ernie! BIG ERN. No? Anyway the vid's brilliant.
The single's out on June 25.
There's a remix by Fort Romeau if you like that kind of thing.
There's going to be a July London date which will deffo be handy for the June single release, and you will find out about that (the live date) next week.
There will also be a remix album which is going to be free, and the idea is that you download it (there's some new stuff among the mixes you already know and love) with some nice new artwork to go with it.
Lovely.