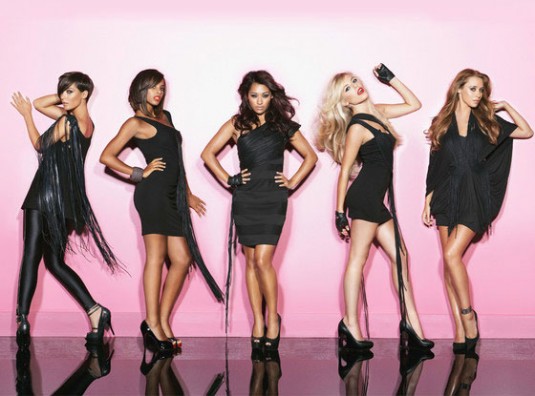 Hello — or 'howdy' — America!
You are probably wondering who or what this 'The Saturdays' band is.
You may have heard that the UK five-piece will be starring in their own E! reality show Chasing The Saturdays next year. But who are they — and are they any good?
Well:
Yes they're good.
They are — in the best possible way — a standard girlband. There are five of them, they're con­ven­tion­ally attract­ive, they bend over quite a lot when they're on stage, and their albums are patchy but their Greatest Hits is shaping up nicely. They've never scaled the critical or com­mer­cial heights of Girls Aloud or the Spice Girls, but they get the job done.
Mollie is the best The Saturday.
She is funnier than she realises she is, but more self-aware than you might think she is. She is also more posh than the Queen and is probably something like 20th in line to the throne. Sadly, despite her radiant good looks, she has been unlucky in love, making do with a suc­ces­sion of ugly men.
Frankie and Rochelle from the band used to be in a different band but now they're not.
Do you remember American Juniors, which ran for one season on Fox in 2003? And do you remember their single, 'One Step Closer'? Well here in the UK we had 'One Step Closer' a little earlier, and it was performed by S Club Juniors. Like American Juniors, S Club Juniors were a Simon Fuller invention, and they were like a miniature S Club 7 (whose biggest US hit was 'Never Had A Dream Come True' in 2000), with a spare.
Here's an amusing-even-if-we-do-say-so-ourselves 'day in the life' piece with the band from the Guardian.
The group even­tu­ally became S Club 8 and in their time together released three really great singles: 'Sundown', 'Fool No More' and post-'Can't Get You Out Of My Head' mini-mas­ter­piece 'New Direction'.
When that went tits up, the members of S Club 8 got involved in a weird Simon Fuller TV thing called I Dream, which was a bit like High School Musical but earlier and unsuc­cess­ful (in the same way that 'From Justin To Kelly', another Fuller vehicle from around that time, was also bit like High School Musical but earlier and unsuc­cess­ful). Anyway using I Dream as a launchpad Frankie and Calvin formed 'Frankie & Calvin' (amazing) and released a single called 'Dreaming' which, however you look at it, was extremely poor.
http://www.youtube.com/watch?v=8‑tX3USZ4bk
After that the whole S Club Juniors / S Club 8 / I Dream / Frankie & Calvin thing sort of fell apart. For a while 19 con­sidered launching Frankie as a solo artist — one of the songs she was offered at the time was very good, but about anal sex — but then that all went quiet.
We think they were developed by Girls Aloud's pro­duc­tion team Xenomania but that didn't quite work out.
We went for a meeting at Ministry Of Sound once and when we got home we'd been burgled but that's not the point. The point is that while we were there they were talking about a top secret girlband they were devel­op­ing but couldn't show us
yet, and we said, "is that them on the wall?" and they looked at a picture of a girlband stuck on the wall and said "er yes basically". Anyway the Ministry girlband didn't even­tu­ally happen but we think that band ended up being The Saturdays and we're pretty sure Xenomania were involved in putting the girls together in the first place. We're sure someone will set us straight if we've got that wrong. Basically what even­tu­ally happened though was that The Saturdays were even­tu­ally launched by Girls Aloud's record label through a support slot on an Aloud arena tour. This is the first thing we wrote about them.
Despite modest (if not dis­astrous by any means) sales they have a fairly high profile due to quite a lot of endorse­ment deal stuff.
Well all popstars do it, don't they? 'The Sats' (as nobody remotely sane calls them) have been a bit less endorse­ment-happy over the last year, and more selective with the sort of stuff they do, which is good because at one point they were the faces ('faces') of Impulse, Veet and Tampax, which was a bit much.
Their best song is 'All Fired Up'.
In an old Q magazine feature about Xenomania it mentioned that The Saturdays had been down to record with the pro­duc­tion team, but their sub­sequent album didn't feature any Xenomania con­tri­bu­tions. They tried again in 2011 and the results were spectacular.
(It was also their best video to date.)
Their second best song is 'Up'.
Actually maybe their best song is 'Higher'.
(HIYAAA!)
Rochelle is 'pop royalty' here in the UK.
She is married to the best one in JLS, who are like One Direction except not as popular (and probably due to split in the next twelve months, although their forth­com­ing album sounds pretty good). They have a dog called Tiger which we hope is ironic rather than a mistake.
One of them plays guitar.
Una is approx­im­ately twice as old as the rest of the band combined. She is a serious musician.
The E! show will probably be amazing.
Chasing The Saturdays is a fairly good title, although The Saturdays On E would have been more amusing, if not exactly family friendly.
We think that pretty much covers it but if there's anything else you need to know, just ask us on Twitter @Popjustice or in the comments box below…