These are the twelve British pop singles short­l­is­ted for the 2009 Popjustice Twenty Quid Music Prize.
'Beat Again' by JLS
'Better Off As Two' by Frankmusik
'I'm Not Alone' by Calvin Harris
'In For The Kill' by La Roux
'Love Etc' by Pet Shop Boys
'Method Of Modern Love' by Saint Etienne
'New In Town' by Little Boots
'Take Me Back' by Tinchy Stryder
'The Promise' by Girls Aloud
'Up' by The Saturdays
'The Boy Does Nothing' by Alesha Dixon
'The Fear' by Lily Allen
This is what their sleeves look like.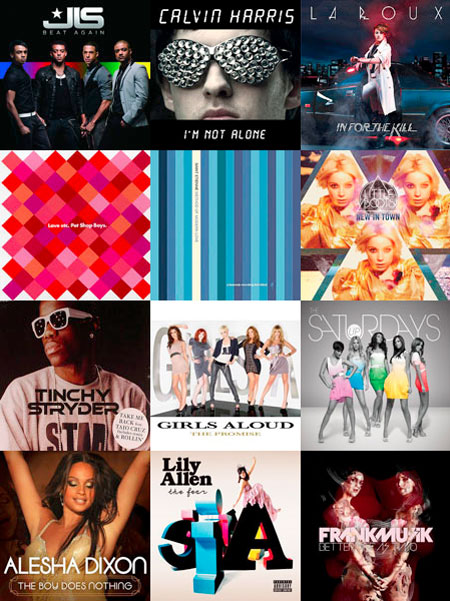 As usual, the winner will be decided at a London judging debacle — this year's takes place on Tuesday September 8. Again, as before, the winning artist will be award twenty quid (cash) and you lot are the judging panel. Here's a great BBC report of last year's event.
If you like to argue about pop music send an email to [email protected] telling us your name, your age, your occu­pa­tion, one single you think should have been taken off the shortlist and one single you think should have been put on the shortlist.
Closing date for judging applic­a­tions is September 1; selected judges will be notified on September 3.