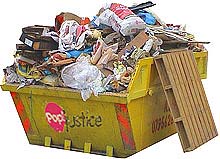 What has been going on in
the world of news?
» Amazing: Ricky
Martin has bought an ISLAND. (Yahoo! Music)
» Radiohead
are saying that the amazing 'n' revolu­tion­ary marketing campaign behind
their last album was a one-off. Oh boo hoo the music industry isn't saved after all. (Yahoo!)
» Last.fm say — and we suspect a cal­cu­lator may have been
used — that the Coldplay
single was listened to once every two seconds yesterday. (Digital Music News)
» Pink Floyd
want their pig back. (The Mirror)
» The Sun are reporting that Amy Winehouse is
thinking of leaving her record label after her next album (?!?!)
and that she will set up her own label in order to release records by Tyler James. (The Sun)
» Jesse
McCartney's PR people are def­in­itely not respons­ible for
this story about Simon Cowell having 'pleaded' for the singer to write
another song for Leona. (The Star)
» Kylie
Minogue wears a wig. (The Sun)
» Something boring about
Christina Aguilera and fashion. (The Times)
Blimey.