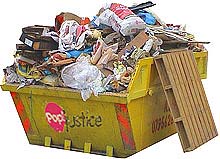 What has been going on in
the world of news?
» Phil Collins
has retired. This is a shame because despite being a deeply boring old twat he's still written some amazing songs. (The Times)
» Guitar riffs: they're good. (Apparently.) (Well we suppose
the one in 'Wake Me Up' is quite good.) (The Times)
» A terrible, terrible headline leads us into a Madonna story about
not very much. (USA Today)
» An inter­est­ing piece about the rein­ven­tion of Jamie Lidell. (The Guardian)
» No mention of Leon
Jackson in the Sunday Times Rich List's Top 50 Music
Millionaires. (The Independent)
» Remember: rock = good, racism = bad. Even when the rock =
bad, racism = still bad. The existence of Scouting For Girls ('bad
rock') does not mean that some racism is therefore good. All racism is
bad. Looking back on the gig that started Rock Against
Racism… (The Independent)
» Sam Sparro
talks to The Sun. (The Sun)
Blimey.