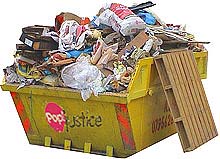 What has been going on in
the world of news?
» Beyonce
and Jay‑Z's
wedding has been offi­cially confirmed so you can all get on with your
daily routines now withou fear of your mind wandering onto the topic of
whether or not two people said some things about love to each other in
America. (BBC)
» Sony
is going to buy Gracenote,
the brilliant database which tells you S Club 7 CDs are Brazilian death
metal albums from the 1970s, for about $260m. (Yahoo)
» One of Kiss
who isn't Gene Simmons says that Kiss fans don't want new Kiss songs. (AntiMusic)
» American
Idol is going on tour from June; organ­isers are hoping
that the dates will be more popular than last year's, which saw a dip
in profits. (USA Today)
» Great news for indie bands wondering how to make a few quid
back on a couple of hundred self-released albums: SonyBMG are the
latest major label to sign up for Nokia's
'Comes With Music' service. (Yahoo)
» Someone has made a doc­u­ment­ary about Soulwax. (Guardian)
» Mariah's
new album is on course to sell almost half a million copies in its
first week, based on first day sales or something. (Popdirt)
Blimey.