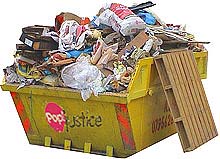 What has been going on in the world?


» The bad news: U2 plan to reissue their early albums. The terrible news: following their recent deal with Live Nation, they''re in the studio to record EVEN MORE. (Billboard)

» Amy Winehouse fails to sym­path­ise with former indie musician. (The Sun)

» Pete Wentz's desire to emulate the Jay Z business model extends to following him down the aisle. (MTV)

» Toni Braxton urges doctors to unbreak her heart. (Gigwise)

» After Madonna's recent wild claims, Gwyneth Paltrow offers yet more 'oddball theories' on the plight of Britney Spears. (Music Rooms)

» Some people still cannot under­stand that popstars occa­sion­ally swear. (BBC)
Not a lot then.