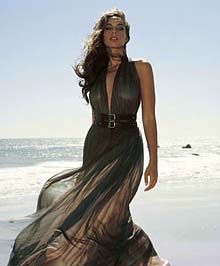 What have we learned?
Number One: Everyone likes a ballad – espe­cially now it's freezing cold all day and night.

Number Three: A lot of people are waiting to buy the Westlife album rather than the single, or perhaps they simply bought the Leona single instead.

Number 17: Robyn needs to release 'Be Mine' or 'Dream On' sharpish in order to have another Top Ten hit.

Number 19: Everyone loves a comeback. Especially when that comeback involves a bigger neck and arms, a new American accent and a David Bowie sample. Yes, people still seem keen on Craig David.

Number 26: Alicia Keys is an amazing singer but no one is rushing out to buy the single yet. (EVEN THOUGH IT IS AMAZING.) (THE ALBUM IS BLOODY BORING THOUGH.)

Number 50: The Nicole Scherzinger project is strug­gling in the UK like it struggled in America. Call us old fashioned but perhaps she just needs to get her tits out or something.
That is what you need to know about the new Top 40.