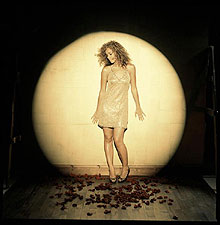 What have we learned?
Well…

Number One: Leona Lewis is still Number One in the singles chart and is also the owner — along with over a third of a million others — of the fastest selling album of all time. People who haven't quite got to grips with down­load­ing albums from iTunes have also peppered the Top 75 singles chart with songs from the album.

Number Four: A two year break, a bizarre TV show and a Children In Need per­form­ance couldn't help Kylie bump Leona off the top of the charts, or even outsell a couple of records (by Timbaland, Take That) which have already been knocking around for weeks. Perhaps everyone is waiting for the album or 'The One' to be released before they part with their cash.

Number Six: Leona has whetted the world's appetite for big ballads by women who are a bit down about some bloke or other. Alicia Keys is the second most popular singer of such songs in the UK at this current moment in time.

Number 23: No matter how dis­ap­poin­ted Kylie must be with her Number 4 entry, spare a thought for five Tesco shoppers. Impressive 'sales spike' — ie an 18% slump on last week's sales — following that Children In Need appear­ance, girls…

Number 42: Boo hoo hoo Pigeon Detectives.
Number 45: The lowest-charting Hard-Fi single ever. Still, at least it's given the album a boost: 'Once Upon A Time In The West' is currently sitting pretty at, er, Number 89.
It's all go, isn't it?