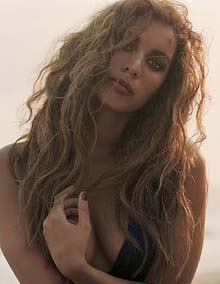 What have we learned?
Number One: Even though it has been already at Number One for months and months, we'd say putting a couple of quid on Leona Lewis being Number One for Christmas would not be totally stupid. Christmas 2008 at this rate…

Number Six: Considering his lowly status as only history's second favourite X‑Factor winner, Shayne Ward's new single 'Breathless' being at Number Six must rank as Quite Good News for the dwarf-tossing metrosexual.

Number Eight: It is going to be very inter­est­ing to see how the Kylie album sells this week…

Number Nine: It's not a bad week to be in Girls Aloud: the download of 'Call The Shots' is at Number Nine and the actual proper real 'Tangled Up' album is at Number Four – which makes them (for one week only) more of an 'albums band' than Led Zeppelin or The Eagles.

Number 11: The Spice Girls would probably have been better off getting behind this year's 'get 'Stop' to Number One' campaign instead of bothering with 'Headlines', all things considered.
Further off the radar, Alicia Key's boring new album is at Number 14, just out­selling Lee Mead…