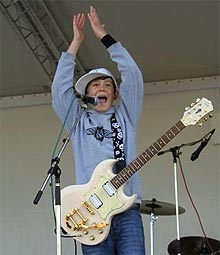 There are some 'movers' and some 'shakers' in the new Popjustice Almighty. Here is an explan­a­tion of those moves and shakes.

Lil' Chris has gone up a bit because we went to see him rehears­ing with his new band last week and it was REALLY good. Afterwards we spoke to Chris for a bit and it turns out that he is a complete genius. You can still listen to his debut single 'Checkin' It Out' on his MySpace.
Also new on the Almighty are Lemar, whose very amazing album sampler arrived at PJ Towers this week, and The Brits, who've binned off the Best Pop category for next year's awards, thus ending a few years of delib­er­ate ghet­toisa­tion. We will obviously retract this support of the Brits when precisely zero pop acts are nominated for anything in the 2007 short­l­ists, but for the time being everything is 'alright'. Meat Loaf is in there because now we've had a chance to listen to the new 'Bat Out Of Hell' album a few times we are abso­lutely certain that 'Blind As A Bat' really is the great lost Backstreet Boys ballad.
We have put Boyz magazine in there too because it has recently got quite good, having (fairly suc­cess­fully) rein­ven­ted itself as a Heat magazine for bum bandits, and for this bit of the current issue's contents section: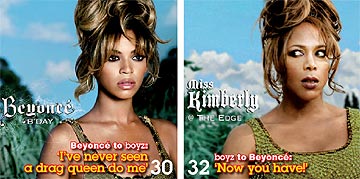 Lily Allen goes back to Number One, partly because we saw her backstage at V and she moaned about having dis­ap­peared from the chart, and partly because we want her to do something for the Popjustice com­pil­a­tion album which will literally take her FIVE MINUTES and if she responds to our text we will let her know all about it.

Basement Jaxx are in there to make Popjustice look 'happening'.