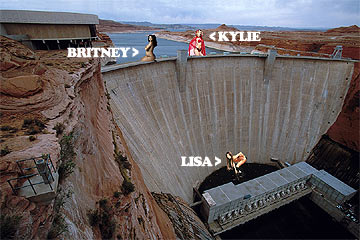 ALERT! ALERT! In the next few months the world's most amazing song­writers and producers will find out whether the best pop songs they've written in the last few years have made it onto the Britney or Kylie albums.
Most of the rejected songs will have been knocked back because they are 'too pop', 'too com­mer­cial', 'too good', 'too likely to make people want to buy a record' and so on.
Which means that in the next few months there could be a huge pop tidal wave as Literally The Most Amazing Music Of All Time is suddenly up for grabs.
THIS IS WHAT EMI SHOULD DO NOW
1. Invent seven girl­groups, two solo singers, two Booty Luv-style dance outfits and one indie band who don't mind pre­tend­ing they write their own material when really it's by Jewels & Stone or whoever.
2. Divvy up between the above-mentioned acts the — what, more than a thousand? — rejected Kylie songs of which we suspect more than 150 are of a standard that would make Lisa Scott-Lee weep.
3. Chuck in however many decent songs were also rejected by All Saints, Roisin Murphy and Jamelia, as well as the ones which they know full well will never make it onto the second Lily Allen album.
4. Launch one act a month for the whole of 2008 because everyone knows that it doesn't actually need to cost a million quid to launch a group if the songs are good enough which in this case they are.
5. Watch as SonyBMG do the same with all the Britney rejects which are probably even better than the Kylie rejects because people would rather have a song on the Britney album for reasons as diverse as cash and money.
5. JOB DONE.
THIS IS WHAT EMI SHOULD NOT DO NOW

1. Leave the songs on 'the shelf' or in 'the drawer' to rot.
Right? Right.