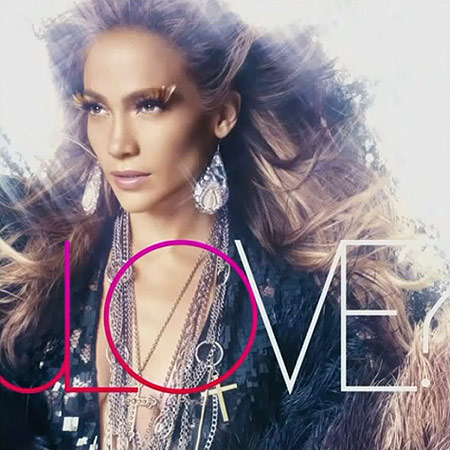 As you might expect, hopes for Jennifer Lopez's 'Love?' album were fairly low. Then 'Papi' came along. And some other listen­able bits too.
So does 'Love?' live up to recent expect­a­tions, or down to previous ones?
Well it's hard to listen to the album without feeling that the whole thing's jam-packed with stuff nobody else wanted, but here are the good bits and the bad bits of the album everyone's calling 'the one we might listen to a few times until something else comes along'.
GOOD STUFF

BAD STUFF

1. THE "LA LA LA LA LA" BIT IN 'ON THE FLOOR'
The first time we heard this we thought it was just a com­pletely lazy
way of avoiding having to writing more lyrics or find inter­est­ing or even unin­ter­est­ing new
ways of fitting the phrase "on the floor" into the song. We were
probably right — there's no real sign of any creative passion anywhere
in this song or across the whole album — but repeated listening has
shown us that the "la la la la la" bit is not just lazy, it's what it
would sound like if Jennifer Lopez were so consumed by the joy of music
that she lost the ability to speak any sense at all and found herself reduced to
com­mu­nic­at­ing in "la la la"s. It's a properly euphoric moment that
sounds exactly like how it feels to be overtaken by music. Like
we say it was probably just chucked in quickly because there was only
five minutes left until lunch and Scherzinger was due in at 1.30, but
sometimes in life it is important to look for the positives and that is
what we have just done.
1. THE PRESENCE OF PITBULL IN 'ON THE FLOOR'
A sobering reminder that evil still exists in the world and the fight will never be over.
2. THE AMAZING CHORUS BIT IN 'HYPNOTICO'
The "all the boys will love it when we do our thing, we're just some silly heart­break­ers tonight" is eye­wa­ter­ingly brilliant. A lot has been made out of the fact that Lady Gaga co-wrote this song — pre­sum­ably the story here is that a portion of this song (possibly the really good bit under dis­cus­sion here) is something Lady Gaga worked on with RedOne but didn't want, then RedOne gave it to Jennifer Lopez. Whatever the truth is, the chorus is really good.
2. THE FACT THAT 'HYPNOTICO' IS JUST RE-DONE REDONE
It's a little too close to being retread of 'Club Banger Nation' off the Nicole album. 'Bad Romance' remakes we can handle, but this just feels weak. Another 'Love?' album track, 'Invading My Mind', is pretty much the same deal, except without the really good bit.
3. THE SIMPLE AND OBVIOUS TRUTH THAT 'PAPI' IS FANTASTIC
The first 25 seconds of this song might form one of the most exciting
intros of 2011. If this is not a single we will track down the person respons­ible for making the decision and we will kill them with our bare hands.
3. THE CHORUS OF 'PAPI' SOUNDING A BIT DODGY
Obviously there's loads of shit about 'my rock' and 'hands up in the air' — this is a Jennifer Lopez album so that is a given. More import­antly the fist-gnawingly shit pop cliches on 'Papi' are almost bearable
next to the "dance for your daddy" gist of the chorus. There is no
sadface capable of artic­u­lat­ing the awfulness of this imagery.
4. THE AMAZING GENERIC LEONAISMS OF 'UNTIL IT BEATS NO MORE'
"I'm in love and it's all
because of you, I was fading but you pulled me
through." This is amazing.
4. THE CRAP GENERIC LEONAISMS OF 'UNTIL IT BEATS NO MORE'
Like any mean­ing­ful attempt to really grasp the vastness of the universe, it's hard to totally com­pre­hend how many other artists this song must have been
around
before it ended up with Jennifer Lopez.
5. THE CHEERING NEWS THAT 'GOOD HIT' IS OUT OF THE WAY BY TRACK THREE
Putting the execrable 'Good Hit' as track two means that it is rel­at­ively easy to get on with enjoying the rest of the album.

5. THE TRAGIC NEWS THAT 'GOOD HIT' IS STILL GENERALLY UNLISTENABLE
The Auto Tune! Oh God our ears, our ears! And the lyrics! 'Swagger',
'in your face'. There are so many songs like this in LA that they've had to find
altern­at­ive uses for them. The wedge doors open with them, they stick
them under legs of wobbly tables. And still the mountain of pointless 'club' 'bangers' continues to grow. It's sad
really, but what can you do? Actually here's what you can do: STOP
WRITING THEM AND WRITE SOMETHING INTERESTING INSTEAD.

IN CONCLUSION
Jennifer Lopez and Nicole Scherzinger should form a duo. The duo should perform songs like 'Poison' and 'On The Floor' and 'Papi' etc and RedOne should generally just use the duo as a dumping ground for things other people don't want. There should be lots of videos set in nightclubs where it starts to rain even though it is all happening indoors.