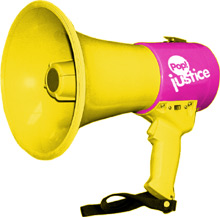 Is every member of the Popjustice forums convinced by the new Kylie Minogue single '2 Hearts', then?
Well…
Spits Anfunny2003: "Nah, it's nothing like tre­mend­ous at all, even more so given Kylie's career/pop status. It's dis­tinctly dull… I don't feel enter­tained by it at all really."
Snaps NoSignOfLife: "Heard Kylie's version several times and I still don't like any bit of it. The video's nice — visually."
Blasts Canukfuck: "She looks awesome and peforms in the video very well. I can watch the video all the way through but I couldn't care less about the song."
Snips Samuel: "I hate this with a severe passion. Why, Kylie?"
Snarls Rhythmnative: "The Scissor Sisters could have given the new Kylie album a glam feel while still feeling like a Kylie song…"
Rants Me1979: "This is probably the zillionth time Kylie Minogue, one of the biggest, campest, pop icons of our time, has tried to be 'cool ' and still it doesn't wash…"
Yells Steve: "Goodness knows what the hell they are thinking with '2 Hearts'. She will never be a cool act; surely she should be aware of this by now and just play to her strengths?!"
Blubs Toxic84: "I don't under­stand, I was expecting much better. Not very keen on the video either at all."
Bawls DiamondDoggieBag: "I knew the crap album name was a bad omen. It's not bad by any stretch, but Kylie just doesn't have the voice to make it really work."
Wails Varjak: "Those breathy vocals are starting to grate on me."
Well, what about elsewhere on the internet?
Says Jason D'Luv of Chart Rigger: "Am I the only one who was more dazzled by tracks leaked online earlier this year — such as 'Excuse My French'"
Says Artzboi of V.I.P. Music Only: "I was VERY Disappointed. .She has changed from the Disco Princess to a altern­at­ive Pop-Queen. The Promo-pictures hardly let us wait a sound like this… I can see this causing a gay-fans' heart attack."
Says xolondon of XO's Middle Eight: "I am not sure she even bothered to record the backing vocals! That does not sound like her on the wooh!"
And what about the Kylie forums at 'SayHey'? Here are just a few of the forum's thread titles — and remember this is a Kylie fan board..
'Doesn't it all feel a bit surreal?'
'Kylie goes Melissa Etheridge'
'She's slapped us in the face again'
'Oh Kylie what were you thinking?'
'What the hell?'
'2 Hearts — a load of effing shite'
'Anyone prefer 'Touch Me Like That'?'
'Wrong decision and they know it'
But those are alongside the following, more positive responses…
'Dancing all over the house with '2 Hearts''
'Anyone want a '2 Hearts' avatar?'
'Kylie: she's so brave and strong! What a leader.'
We think that offi­cially counts as 'a mixed response'. Shall we have another look at this then?
httpv://www.youtube.com/watch?v=JziO21iwcxk

Yep — it's def­in­itely still one of the best pop singles of 2007. We honestly can't see what people are finding so difficult to get their heads around…