On Friday we left the office on a top secret (not secret) pop mission which meant that the Marina & The Diamonds / Little Boots Adjacent Video Shoot Faceoff Of Doom continued while we were unable to update you.
First, this arrived on an email. It's Marina with her mouth open.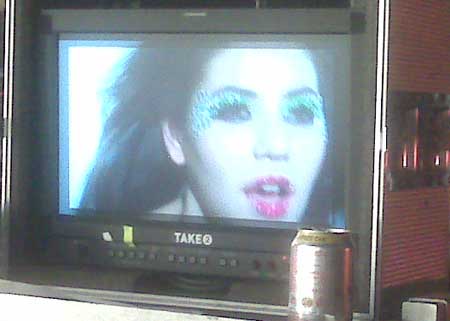 Phwoar right lads???
That would have put Marina well in the lead were it not for the fact that Team Little Boots followed it up with LIVE FROM THE SCENE VIDEO FOOTAGE. In the video below you can see some glass exploding (or something).
httpv://www.youtube.com/watch?v=yXJab3N-ras

Extra points for the top quality music biz dialogue:
"I'm shitting myself."
"Don't scream."
"It's like the end of the world."
God help us if there's a war.
Anyway the video footage deffo put Little Boots in the lead.
The final score:
LITTLE BOOTS: 3
MARINA DIAMOND: 2.5
Well done everybody. Don't worry Marina, it's the taking part that counts.