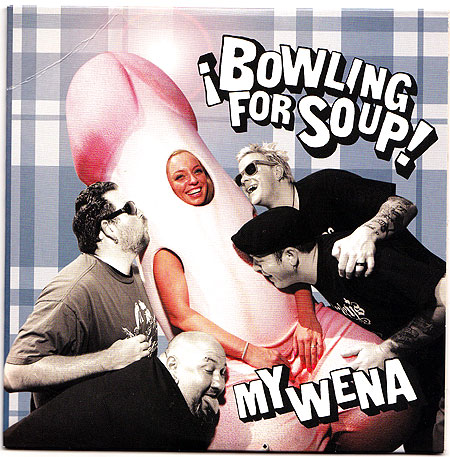 You may recall that last week we featured the sleeve for last year's Bowling For Soup single 'My Wena' alongside efforts by Shayne Ward and Belinda Carlisle in a roundup of terrible cover art, adding that "even with an impress­ive 2:1 in Media Studies we're having trouble decoding this one".
Well, help is on hand in the form of an email from Andy Medhurst. Andy is Senior Lecturer in Media, Film & Cultural Studies at Sussex University. He was also our tutor when we were at Sussex.
Writes Andy:
Speaking as somebody, erm, implic­ated in your 2.i in Media Studies, that hideous penis sleeve (a new death metal band name?) is obviously a classic example of displacement.
They had to put a woman in a dick suit to displace the desires they feel for licking each other's bits. That would not be rep­res­ent­able in any known universe, obviously.
And don't be so mean to Belinda's Voila — I love that album!
Well that clears that up, then. We hope there is never another reason to feature this CD sleeve on Popjustice.