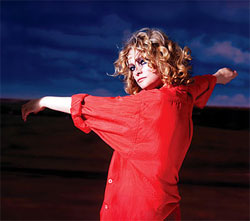 Earlier this month we sat down with Alison and Will from Goldfrapp to ask them questions you'd submitted. During the course of our interview the following facts emerged.
1. In news that will dis­ap­point a Popjustice reader by the name of Rod
there is not, as far as they are concerned, a sub­lim­inal penis on the
'Head First' album sleeve.
2. The 'Rocket' video has a rocket in it, and a big truck.
3. When Alison met Simon Cowell a few years ago he was wearing a pink jumper.
4. They're not quite sure if the song they wrote for Christina Aguilera is on the Christina album, but they'd like it to be.
5. Alison recently exper­i­enced THE MOST BORING CHRISTMAS CRACKERS OF ALL TIME.
6. Good news: the new album IS suitable for water aerobics.

7. Alison would like to work as a cleaner in Spain.
8. Will is a fan of cats.
9. Alison is not a fan of cats in clothes.
10. Alison has never hear of 80s pop songstrel Kelly Marie. The
song still sounds great; certain other aspects of this per­form­ance have
aged less well.
httpv://www.youtube.com/watch?v=uMD0BcgcqQY

It was, unbe­liev­ably, accept­able in 1980.
Full interview: Goldfrapp answer your questions.