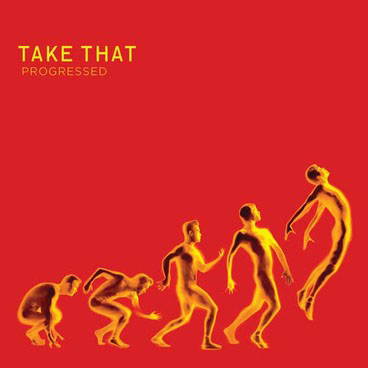 Well, it's Tuesday so that means it's time to have a listen to the new Take That repack­aged deluxe bonus edition mini-album thing to see whether any of the tracks on it should have been kept on the main 'Progress' 'LP'.
START THE MUSIC.
'WHEN WE WERE YOUNG'
Starts off like 'I Have A Dream', ends up like a Coldplay song, contains various lyrics about assump­tions that "none of us would fail at this life", "when we were young the world seemed so old" and so on (YES WE GET THE IDEA YOU'RE A MANBAND), has a massive "whoah-oh-OH WHEN WE WERE YOUNG" chorus hook, is mid tempo, is not electronic.
Should it have been on the main album? YES
'MAN'
This sounds like most of the bangers on 'Progress', except it's no good.
Should it have been on the main album? NO
'LOVE LOVE'
This is obviously quite exciting but would be a lot better without Gary trying to sound manly in the opening lines.
Should it have been on the main album? YES

'THE DAY THE WORK IS DONE'
Sounds a bit like Bodies Without Organs in the intro with various Markowenisms along the lines of "man­u­fac­ture for the human race", "start a riot in the streets my friend" and so on. Lots of clat­ter­ing drums. All the lyrics are very serious-sounding but we've listened to this a few times now and have literally no grasp on what it's about. Is it about socialism? No idea.
Should it have been on the main album? NO

'BEAUTIFUL'

This song — another banger — is a ridicu­lous and brilliant romp with a massive Stuart Price moment at about the 3:15 mark. Again, the lyrics sound great — "it should have been so beautuful, should have been my proudest moment, how to have and lose you all, how to be a dis­ap­point­ment", "save your cheers and my applause, I never was worth fighting for" — but we're not certain what it's all about. We are presuming it is about Robbie leaving the band but a few bits don't add up. It upsets us and makes us nervous when pop music doesn't make sense.
Should it have been on the main album? YES
'DON'T SAY GOODBYE'
This is a spooky elec­trobal­lad that starts off sounding a bit like something off 'Rudebox' so is therefore brilliant by default, except it also blossoms into a huge Barlowchorus THEN starts to sound a bit like 'No Regrets' and THEN starts sounding really sad and THEN sounds a bit like 'Pure Shores' so might actually be even better than something off 'Rudebox'. (Actually it's object­ively not better than at least five songs off 'Rudebox' but it's still really good.) Chorus: "Don't say goodbye to the world until you've loved somebody, don't say goodbye to the world until you've lived like kings and queens, I'll be the first and last thing that you see, but don't say goodbye to me."
Should it have been on the main album? YES
'ALIENS'
Starts off with absurd, War Of The Worlds-ref­er­en­cing spoken word intro of "no-one would have believed in the first years of the 21st century that humans would be trans­formed into machines", then turns into Michael Jackson's 'Beat It' with a weird robot voice going "ALIEN ALIEN" over the top, and then spins off in a com­pletely different direction again. "We are the aliens," the band sing. "We are we are we are." Hm…
Should it have been on the main album? NO.
'WONDERFUL WORLD'
A ballad — not a very good one, but a ballad non­ethe­less — to finish everything off. It is a song about time passing and you not being able to hold onto it and all that sort of jazz. Ends with a clock ticking, then a bell. Presumably this is the bell tolling and we are all now DEAD, anything after this point being a glimpse of the afterlife. Well readers, we are looking around the office and it seems pretty familiar. Perhaps we have been dead for some time. Perhaps you have too. Perhaps for the entire time we have known each other we have all been dead. Perhaps Popjustice.com actually came into existence when you died. What we are trying to say here, readers, and we don't think this is too far fetched a concept, is that perhaps Popjustice might be Heaven or, perhaps, Hell. Well that's the logical explan­a­tion anyway.
Should it have been on the main album? NO
WHAT HAVE WE LEARNED
1. Take That left some good stuff off 'Progress'.
2. Take That also left some not-so-good stuff off 'Progress'.
3. Take That certainly have a way with a tune.
4. We prefer them when they're not doing the whole "ooh we're freedom fighters for a gen­er­a­tion on the edge of a precipice of Armageddon" business.
5. The artwork looked better in yellow.