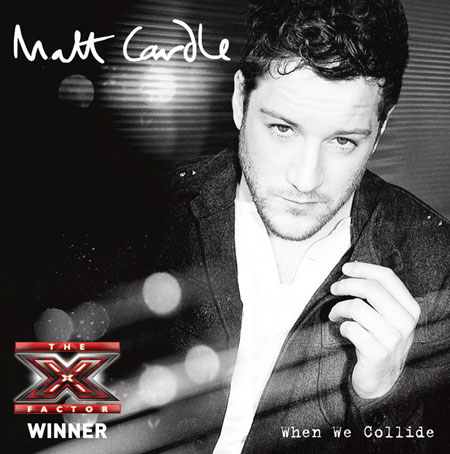 Matt Cardle has been dis­cuss­ing his Number One single 'When We Collide'.
As we know, this is a cover of Biffy Clyro's 'Many Of Horror', and sold over 400,000 copies to be 2010's Christmas Number One.
Let's examine what Matt had to say. From an interview with MTV:
"As soon as they presented me with the oppor­tun­ity to sing ['Many Of Horror'], I just snatched it. I didn't let them change their minds. I would have hated to of sang Miley Cyrus, The Climb."
Speaking of Biffy Clyro's recent comments that they felt Matt's cover was "an X Factor version" of the track, Cardle told us: "Absolutely true, that's what it is. I'm very wary of doing covers, I just hope their not hating it."
"I mean with Miley Cyrus' The Climb, you can kind of s**t on a Miley Cyrus song and not many people are going to care because fans of The Climb by Miley Cyrus are children."
"They are not going to be like 'Oh god, I can't believe they've done a cover', but when it comes to Biffy Clyro, they have a hardcore, die-hard fanbase and are a hugely credible band. You can't f*** around with one of their songs."
There are various things we would like to say to Matt about these comments. Some of these things include:
1. Matt, you may well establish yourself as a force to be reckoned with in the credible troubadour stakes but right now all you've done is win The X Factor under Dannii Minogue's guidance. Get over yourself.
2. Matt, 'The Climb' was written (by grown ups, believe it or not) about what it's like to struggle in the music industry. Not a concept with which you are well-acquain­ted but one which you may start to recognise in the coming years, so perhaps reserve judgement until then.
3. Perhaps, Matt, you could put to one side the fact that you've allowed yourself to be swayed by the words 'Miley' and 'Cyrus', and explain what exactly it is about the lyrics to 'The Climb' that you consider to be so facile? And, while you're at it, what is it about the melody to 'Many Of Horror' that makes your 'cool' ballad somehow better than the one you've chosen to dismiss as a nursery rhyme?
3. Matt, do you in some way think that the 'children' who like 'The Climb' are in any way less dis­cern­ing than the cock-crazy V Festival-attending twenty-to-thirtyso­mething women who formed a large pro­por­tion of those who voted for you to win The X Factor? Do you find that descrip­tion of your fanbase crass and con­des­cend­ing, and if so why do you feel that you should be allowed to be dis­missive and snotty about music that other people enjoy? Do you feel that you have 'indie on your side'? Good luck with that one, Matt.
4. Matt, do you under­stand that people buying your song as a trinket asso­ci­ated with their 2010 X Factor exper­i­ence is no different to 'children' buying a Miley Cyrus tune they enjoyed in the Hannah Montana movie?
5. You do under­stand, don't you, Matt, that to 90% of the people buying your oh-so-cool Biffy cover this is not some victory for authentic music (how could it be? You've been told by Syco to cover someone else's song)? You do know that ulti­mately this is just a nice-sounding version of a nice-sounding song, right? Because, Matt, do you realise that 'Many Of Horror' was already a song that many Serious 'N' Snooty rockists — people who share your snotty attitude towards pop music — felt was little better than a Westlife ballad?
We could go on but we're late for lunch.